Friends of Minnesota Barns 2017 Fall Barn Tour
Sunday, September 24th, 10:00am
Corcoran Lions Park
19101 County Road 10

Each year, Friends of Minnesota Barns hosts a tour of barns in different areas of the state. This year's tour highlighted four interesting properties in the Corcoran, Rockford, and Loretto areas just west of downtown Minneapolis.
We visited two barns in the area, then had lunch at Rosewood Eatery, and visited the remaining barn properties after lunch.
Pioneer Power Association - Annual Show and Swap Meet
August 25-27th, 7:00am-5:00pm
34605 265th Ave
Le Sueur , MN
Friends of Minnesota Barns was at the La Sueur Pioneer Power Association Annual Show and Swap Meet August 25th through 27th, where FOMB Director Mark Johnson and friend John Reinitz completed a 10' x 12' cabin that was started at the 2016 show. Mark also held a barn seminar each day at 2pm in the Preuhs Building, just sound of the cabin exhibit.
For more information about the Pioneer Power Show, please visit their website,
http://www.pioneerpowershow.com/.
Nowthen Threshing Show
August 18-20th, 7:00am-5:00pm
Anoka, MN
Friends of Minnesota Barns held a booth at the Nowthen Threshing Show August 18th through the 20th in the Anoka area. The booth had an exhibit featuring old barn building tools, pictures, as well as a small demonstration.
Nowthen Threshing show information can be found at their website,
http://www.nowthenthreshing.com/.
Coffee Chat at the Andrew Peterson Farm
Sunday July 16th, 2:00pm
Andrew Peterson Farm
8060 Highway 7, Waconia MN
Please join us at the Andrew Peterson Farm near Waconia on July 16th at 2pm. This is a Pioneer Farm that is on the National Historic Record, and Friends of Minnesota Barns will provide a free guided tour of the property. Treats will be provided.
Saturday, June 5th at 2 p.m.
Coffee Chat at Hofmann Apiaries
Join FOMB at the National Register-listed Hofmann Apiaries near Janesville, MN, to hear from one of the Hofmann family members about the fascinating history of this barn and the honey house. Joan Mooney of the Waseca County Historical Society will also be present to talk about the restoration and the process of getting on the National Register of Historical Places. We'll bring snacks and drinks!
FOMB Annual Meeting
April 17th, 2016
Historic John P. Ferber Farm
Agenda: Board reports, board election, Bob Quist speaks about renovations at Oliver Kelley Farm, 2nd Annual FOMB photo contest results, and the story of the John P. Ferber Farm by owners Wayne and Angi Butt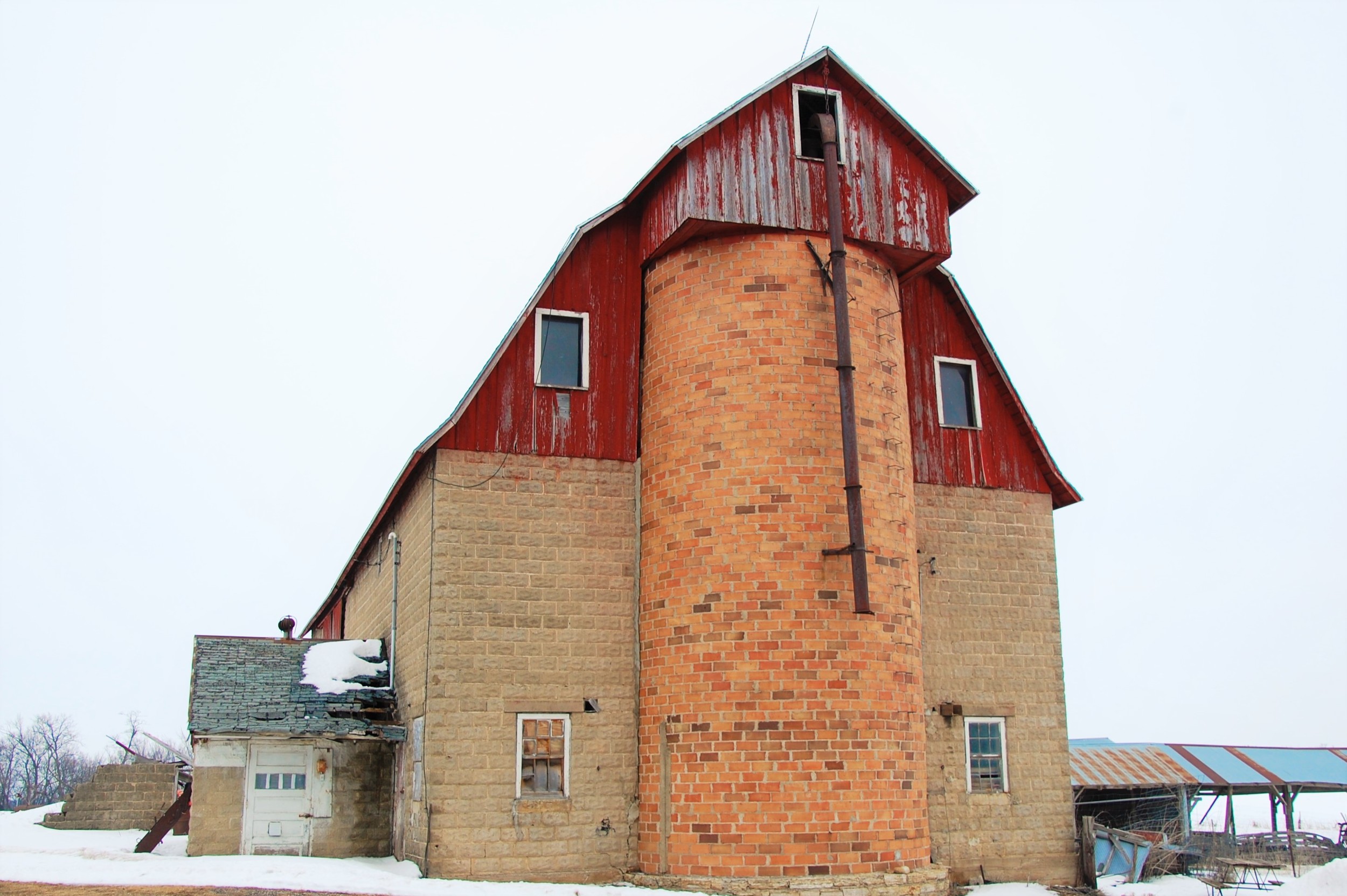 Kicking off the 2016 Coffee Chat season!
April 3rd at 2 p.m.
or call Bill at
651-426-4718.
Cameron & Jackie Raether
57240 Juniper Road
Good Thunder, MN 56037
(Home) 507-278-3488
Click here to download detailed directions to the barn
The barn was built by my Great-Grandpa in 1884 – it was disassembled in 1997 – re-configured by the Buffalo Ridge Beamery Company in Hendricks MN and re-assembled in 1999 on my Great-Great Grandpa homestead. The ceiling alone has over 7,500 board feet of sawmill cut oak. I bought the barn off my Great-Grandpa's homestead just before it was to be burned down (I was in California at the time). The entire barn is now the great room of the home. The home has 145 feet of wrap around porch – most of the exterior wood from the barn is now used on the inside walls of the great room. Components from three different timber frame barns, one log cabin from the 1860's, 12 houses, one church and a brothel were used in the construction. The home has been on Home & Garden television, and we've had well over 3,000 people tour the house since it was constructed. And for those that want to see it – I can show you the ghost in the basement of the home. The home has a number of stained glass windows, and has a considerable amount of family history within the walls of the home.
2nd Annual FOMB Photo Contest
Open Theme Adult (14+) Category
Kids' (under 14) Open Theme Category
FOMB was Featured on Minnesota Urban Barns
https://www.facebook.com/MinnesotaUrbanBarns/
Check out a new Facebook page focusing on urban barns in Minnesota, but since
there aren't that many we are also looking at urban barns in other
places and providing resources for people who are interested in
preservation or urban barns. Those urban barns use to be in the country
and are hard to find gems.
Turn of the Century
Barn Restoration Workshop
Saturday, October 10, 2015
Join local Restoration experts as they demonstrate how to conduct an assessment of a barn's structural integrity and site topography. Get an expert's point of view on foundation repair: wall preparation, structure jacking, wall stabilization, tool selection, mortar selection and mixing. Learn some tips and tricks while gaining hands on experience tuckpointing a fieldstone foundation using a hydraulic lime mortar.
2015 Fall Barn Tour
The barn tour was held on Sunday, September 20th, in the Northfield area with stops at 6 barns. By all accounts it was a great tour and great weather! Thank you to this years' tour organizer, FOMB's Board member Scott Tempel, with help from FOMB Board President Bill Bruentrup. Also, a big thank you to all of the barn owners who let us visit their barns!
Saturday, July 25th at 2:00 p.m.
Coffee Chat in Rush City, MN at Mary Jo Youngbauer's
If you are a member of FOMB and have been reading the most recent Barn Door newsletters, you'll already be acquainted with this barn! The newsletters featured a 3-part story chronicling the process that FOMB Board Member Mary Jo Youngbauer went through to move a turn of the century barn to her own property. Now, the barn is complete and ready for visitors. Take a tour and hear the barn's interesting story of relocating a few miles down the road at the home of a barn-lover.
June 26-27th
150 Year Old Cabin Restoration Workshop
Larry and Judy Hagen have hired Artisan Restoration LLC, owned by Mark Johnson, to restore the original log cabin that Larry's grandfather built in 1864 after he emigrated from Norway with his brothers. Although it once was the homesteading family's only shelter it was soon added on to as the family outgrew the 14'x 16' cabin. More children and a generation later the log cabin was converted into a pig shed after it was no longer used as a home and had fallen into disrepair ever since.
Years after restoring a log cabin from his wife's side of the family, Larry's conscience began to bother him about letting his own family's original cabin fall into neglect so he decided it was time to ease his conscience and restore the cabin. Due to a nearly fatal car accident several years ago he could not do the project by himself as he did the other cabin so he contacted Artisan Restoration LLC to do the work.
The cabin had fallen over and only a handful of logs was able to be salvaged. To keep the restoration as authentic as possible, Artisan Restoration LLC always tries to use reclaimed materials so the rest of the logs came from another cabin that once was a saloon in New Prague and most of the other materials were reclaimed from a barn near New Ulm. Johnson completed the log restoration at his studio near Kasota and delivered the cabin last week. The logs walls are up, the roof will be finished soon and progress will continue until the cabin is completed shortly after the 4th of July.
Mark Johnson will be holding a restoration workshop at the cabin on June 26-27 to offer advice to people who are interested in preserving their old log cabins using the cabin as an example. The workshop will also include barn preservation advice as well as information for people who wish to adopt a log cabin or barn.
Feel free to call Mark for more information about the cabin or the workshop. His number is 507-469-0474.
Larry and Judy Hagen were honored last year by the Farm Bureau as a sesquicentennial farm along with 171 farms in the state. To qualify for this the farm must be at least 50 acres and currently involved in agriculture.
Hoelderle Coffee Chat
Saturday, June 26th
Photos from Tom and Clare Hoelderle's barn:
Photos from the neighbors' (Don and Cynthia Weld) barn:
Coffee Chat at Steven Taylor's Barn
FOMB's first-ever Photo Contest Winners Announced!
FoMB Annual Meeting
April 12, 2015 2pm
at the HISTORIC HOPE GLEN FARM

10276 POINT DOUGLAS ROAD-COTTAGE GROVE 55016
612-751-0300 612-202-2886
COME EARLY AND EXPLORE THE BEAUTIFUL GROUNDS
SCHEDULE
1:00 SOCIAL WITH LUNCH PROVIDED BY LITTLE MISS PIGGY CATERING
2:00 WELCOME AND INTRODUCTIONS
BUSINESS MEETING
NOMINATIONS AND ELECTION OF OFFICERS
SHORT BREAK
PRESENTATION OF PHOTO CONTEST WINNERS
POWER POINT PRESENTATION OF HOUSE AND BARN PHOTOS FROM
THE COLLECTION OF EMILY TUININGA
4:30 ADJOURN
Fantastic Fall Tour
The weekend was spectacular. We could not have asked for better weather for the Friends of Minnesota Barns' annual fall barn tour. This year's tour took place in southeastern Minnesota over two days (September 27 and 28).
The tour started with a jaw-dropping stone barn in Chatfield. The barn could be straight out of Scotland, which makes sense when we learned that the barn's builder was indeed from Scotland. Thomas Ferguson came to America from Scotland in 1869 and purchased the site where his barn now stands in 1871. Being a stone mason back in Scotland, it was only natural that Thomas would continue his craft here in America, building homes, bridges, churches, and other buildings in the area. He worked on his own masterpiece barn in between other projects, taking an amazing 22 years to complete. It is said that Thomas laid every stone himself! The current owners of the barn, Deb and Gary Anderson, have done a fabulous job of maintaining the barn. They have done some tuck-pointing and mortaring to replace rain-washed mortar. A heartfelt thank you to Deb and Gary for hosting us and letting us explore this wonderful barn!
Our caravan next descended on the Old Barn Resort for lunch and a tour of the barn, which has been repurposed for a bar/restaurant and hostile. As we ate, our host told us the intriguing story of the barn's builder Jere Allis, the "playboy" son of Edward Allis (the founder of Allis Chalmers Equipment). Jere raised a variety of animals in the four-story barn, including race horses. Jere finally lost the farm in 1906. The current owners, Doug Brenna and Shirley Endries, purchased the property and barn in 1996. They remodeled the restaurant in the barn, and added a golf course, pool, and camping to the site to complete the Old Barn Resort.
After lunch, we moved on to the Myrah farm in Spring Grove. As the line of cars carefully navigated down the steep wooded driveway, a magnificent 200' long barn came into view. We couldn't wait to get inside for a peak. The owners, Matt and Katherine Myrah, along with their beautiful children, were waiting for us in the barn with hot treats and local cola. What a great after-lunch snack! The barn has been used for several weddings, and it was easy to see why. The arching Gothic-style roof, hung with twinkling white lights, seemed to be made for dancing and celebration. We saw pictures of the barn lined with white tables and floating globes, all spruced up for a wedding. It was perfect! Perhaps the most touching part was each married couples' names and wedding dates painted on the big barn doors. The original barn was built in the 1950s and was 70 feet long. A 130 foot addition was added in the 1980s by Ed Myrah. Ed stopped milking in the 1990s and his son, Matt, purchased the farm and is now a certified organic producer. Ed Myrah was on hand to show us his beautiful 1921 Hart Parr tractor. We can't thank the Myrahs enough for their hospitality!
Next was the Kinneburg barn in Spring Grove. Glenn Kinneburg met us in front of his beautifully restored home to give us the history of his barn. We also were very curious about the yellow airplane on wheels sitting in the yard. Glenn explained that he first salvaged the main body of the plane for a bus stop warming house and then added wings and a golf cart so that he can drive the plane in parades each summer. Glenn's barn was built in 1895 with the unique hay slide, which travels the length of the barn on tracks below the hay carrier. The slide can be tilted to either side to distribute loose hay, or can be moved from under the hay fork to allow hay to be dropped in the center of the barn. It was also incredible to see the original blueprint for a barn remodel hanging on one of the beams in the barn. Quite a remarkable farm and barn! Thank you to Glenn for letting us see it!
Not far from the Kinneburg barn was the tour's next stop, the Hendel farm in Caledonia. This farm is a Century farm, settled in 1869, and has a 1950s dairy barn on site. But that is not what made this farm so remarkable. The "old" barn has been remodeled to house breeding cows and young calves. Matt and Karl Hendel, 4th generation brothers, bought the farm from their father George in 1990. They have updated the farm with the latest technology, including a milking parlor and new free station barns with ventilated side walls. Matt explained that the focus on this farm is cow comfort, which is the best way to increase production. They use sand bedding, which is easier on the cows and keeps them cleaner. The Hendel family is also running a frozen embryo business on the farm. They have customers across the world that buy embryos from them. A huge thank you to the Hendel family, which took time out of their busy day (including milking) to teach us about their farm. It was an amazing experience!
The final stop of Saturday's tour was the Houston County fairgrounds, where the Houston County Museum is located. There were a number of historical buildings, including a school house and a pioneer log cabin, that were open for us to explore. We were also able to see the exhibits in the impressive new museum building and a large collection of farm machinery stored on site. You could easily spend an entire day here learning about the past!
That evening, the group dispersed on their own. Some gathered for a memorable dinner experience at a local establishment. The group met again in the morning to continue the tour to the Heintz Badger Valley farm in Caledonia. The drive to this farm was quite scenic, with winding roads and trees just about to turn fully ablaze in fall colors. The Heintz farm was just as worthwhile to see as the scenery. This farm has two robots that do all the milking of the 160 cow herd. Doug and Julie Heintz installed their robotic milking system in 2009. They updated the 1911 dairy barn and added new ventilated-side barns to house their herd. This farm, like the Hendel farm we visited yesterday, is all about increasing production through cow comfort. They use the free stall barns with sand bedding as well. Doug likened the cows' life to "sitting on a sand beach with a buffet at the ready behind you, fans ready to cool you, and a waiter next to you to take care of your every need." The cows are able to eat, drink, lie down, and be milked at any time they want it. Quite remarkable!
The final stop of the tour was at Schech's Mill. Although not a barn, the mill was impressive and a perfect way to wrap up the tour. The mill's owner, Ed Krugmire, was on site to tell us about the history of the 1876 grist mill. This is the only water-powered mill that still operates with original equipment in Minnesota. Large turbines powered by water run all of the shelling, crushing, and grinding equipment inside the mill. Ed walked us through each of the "machines" and showed us how they worked. As he opened the turbines and powered up the machine that bagged flour, the whole building shook with the power! We were able to explore the basement and the second floor of the mill as well, seeing all the connections between the floors. It was truly amazing how intricate and well-planned out the system was! We owe Ed a big thank you for the tour and the fabulously scenic spot along the river with ducks floating on the water for our lunch. You can purchase flour, cornmeal, and other products from Schech's Mill by contacting Ed Krugmire.
The tour was certainly a success and one of the most memorable weekends I've had in a long while. The Friends of Minnesota Barns wants to thank everyone that joined us on the tour as well as each of the owners that took time out of their busy schedules to let us stop by and explore. A major thank you is also due to the hard-working folks that put the tour together. It takes a lot of planning and work to make such a fabulous event happen. Thank you to Mary Jane Hendel and Naomi Fuechee for research and contributing a list of contacts in the area. Thank you to Bill and Raydelle Bruentrup and LeRoy and Donna Kuta for their investigative trips, contacting barn owners, and doing all the behind-the-scenes work on this tour. It was truly fantastic!
2013-FOMB helps put the doors back on historic McDougall Barn
Thanks to the leadership and expertise of Jay Schmidt (FOMB board member and Barn restoration specialist) and a team of volunteers, we were able to close the openings on the MacDougall barn. It was a lot of work and we put in a full day from 9 a.m. to 5:30 p.m. and if it were not for Jay and his chain hoist, we would not have been able to left the doors up as they were laying on the ground and water logged. It was all two people could do to lift one side of the door. Thanks to Jay as well for donating the framing materials, metal to cover one large door opening where the door was busted up, and screws, nails, and tools to complete the job.
Thanks to all who gave up a beautiful fall Saturday to help close up this 1874 barn in hopes that someone or some group will adapt it as a project and preserve it as it is a great old hand hued timber framed barn with rich history.
FoMB Barn Tour 2013
Chisago and Pine Counties
On September 28th, 2013, over 30 members and non-members came out despite the rainy weather for the 2013 Barn Tour in Chisago and Pine Counties. The day started off at the historic Twin Barns on Rush Lake. Tour members were able to go inside one of the two identical barns and could see that the names and information for each cow still hung above their old stanchion. Next stop was in Pine County at the Stoffel Family Museum. The museum is an elaborate and overwhelmingly complete collection of family and farm memorabilia. The 30 minutes allotted were not enough to begin to explore this museum housed in the old log barn. The next stop was at the Aagard barn. The barn was unique in the many windows and dormers in the barn, as well as the wooden silo inside of the barn. The last stop before lunch was at the Nelson family's working dairy barn. We were able to see a barn with real cows and real barn cats, hard at work (sleeping on the hay bales).
Barn dance at Sweetgrass Farm
Featuring "One For Daddy-O", a four piece jazz and swing band, performing for the opening dance of the 2012 season.
Everyone welcome - no experience necessary!
One For Daddy-Oh play instrumental music, four-to-the-bar swing, that was popular from the 1930's to the 1960's. The band includes four musicians from East Central Minnesota that offer up a range of dance tunes on keyboard, drums, harmonica, guitar, and upright bass. Played at rhythms that encourage dancing, their music ranges from soft ballads to gritty, swinging blues.
A free swing dance lesson will be offered by Demi Miller at 6:30 pm.